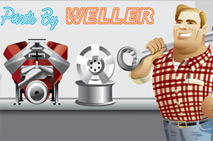 Truck parts, auto parts, and repairable vehicles. Needparts? You need WELLER. Our name is synonymous with quality. Whether you're looking for new or used truck parts, new or used auto parts, or repairable vehicles in need of a little TLC, you've come to the right place. We offer more than the competition: more value, more service, more selection. We have to–it's the Weller way.
It all began in 1928 when Harry Weller, a body shop owner, realized the value of recycled parts and bought a piece of property in Muskegon, Michigan to store and part damaged vehicles. The small business thrived in Muskegon, so Harry decided to move to nearby Grand Rapids, Michigan in 1949.
At about this time his son, Harry Weller II (Known around here as "Junior"), was returning from military service and went to work for his dad. By 1960, Junior had purchased the business from his father and was already planning for expansion.
In 1973, Junior opened Weller Truck Parts, also in Grand Rapids, which quickly grew into an industry leader.  Junior ran the auto and truck operation with his four sons—Skip, John, Chris and Paul—until 1984 when the boys purchased both divisions from him. Since that time, the Weller brothers have expanded the business to include 5 Auto Parts locations, 3 Repairables locations, 12 Truck locations, and 4 Truck Parts distribution centers serving the United States and internationally.