Automotive Recyclers of Michigan & Friends 19th Annual Golf Outing
Monday, June 17, 2019 – Links of Novi
Proceeds to the Kent Utter Jr. Memorial Scholarship Fund & ARM
The DEQ is offering a comprehensive Environmental Compliance Workshop for the Auto Salvage and Scrap Metal Industries, Tuesday, December 11, 2018 at Genesys Conference and Banquet Center in Grand Blanc, Michigan.
Businesses involved with the management and processing of scrap metal and automotive salvage are subject to many environmental regulations. Compliance with these regulations is vital to protecting Michigan's air, land, and water resources as well as the health of workers and the community.
The DEQ is hosting this day-long, comprehensive training to help scrap metal processors and automotive recyclers understand and comply with state and federal environmental regulations. With several staff from the DEQ and MIOSHA on hand to answer questions, attendees will get details on new storm water requirements, as well as air quality and waste management regulations. Participants will also learn how to prepare for and respond to accidental releases and environmental emergencies.
This workshop will also be of interest to local officials, code enforcement officers, and other environmental, health, and safety professionals.
To register and for the preliminary agenda, follow the link below:
https://www.michigan.gov/deq/0,4561,7-135-3308_3333-480140–,00.html
The 2018 ARM Annual Meeting will be a Teleconference on Tuesday, October 23, 2018 at 4:00 p.m.
Please let the ARM office know if you would like to be a part of this meeting and we will send you the information to access the call once it is available. Members Only.
The Michigan Department of Environmental Quality (DEQ) issued a new industrial storm water permit that took effect on April 1, 2016. This new permit includes complicated and challenging permit requirements that specifically apply to auto recyclers.  The ARM Storm Water Program will help you with the following:
● Designed to make compliance easy and affordable
● Professional technical assistance and onsite guidance
● Report preparation
● MiWaters database submittals
● Organization: procedures, forms, and Storm Water Manual
● Coordination of laboratory services
● Coordination with DEQ
● Education and training
● Discounted cost for MICAR Members
You must be a member in good standing with the Automotive Recyclers of Michigan to belong to the program. Members of MICAR receive a discounted rate.
For more information, contact the ARM office.
Be sure to plan on attending a Storm Water Compliance Workshop!
Free to all Michigan Auto Recyclers
Cedar Springs, March 29th
Mason (Lansing), March 30th 
Sterling Heights, March 31st
Click on the link below for more information.
The 8th Annual ARM Road Show & Business Networking Conference will be hosted this year by Highway Auto Parts in Roseville, May 12-14, 2016.  Highway Auto Parts was founded in 1957 by Jack Rukes behind a few houses on Groesbeck in Roseville. In 1962 the houses were torn down and the current building was put up for a sales lobby, offices, and warehouse. Jack Rukes quickly grew the business into one of the busiest salvage yards in the Detroit Metro area. During the 70s he paved the entire yard with cement and built a new 30,000 sq. foot warehouse with more office space. Business continued to thrive and in 1989 Don Sharon and Hank Cloutier purchased it from the Rukes family. They renamed it Don & Hank's Highway Auto Parts and continued to run it until 2012 when they both were ready to retire. Ryan's Auto Parts purchased it in 2012 and changed the name back to Highway Auto Parts. After purchasing it they quickly set about modernizing the facility. New racks, hoists, and equipment were brought in. A new drainage system with multiple catch basins and separators was installed around the property. The facade, lobby, and warehouse spaces of both buildings were updated, and a new covered truck well was installed.
This year Annual Meeting will be held Tuesday, October 20, 2015 at 5:15 p.m. via conference call.  Let the ARM office know if you would like to attend this meeting so we can send you the information you will need to access the call.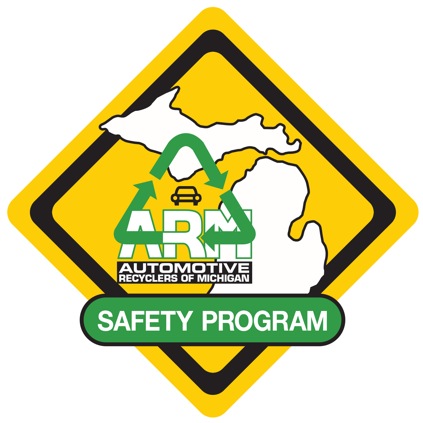 REMINDER
OSHA's New Haz Com Standard Takes Effect June 1, 2015
David Kendziorski
MICAR Program Manager
 In 2012, OSHA revised the Hazard Communication standard, also known as the "Right-to-Know" Law. Some training needed to be conducted by December 2013, and most of the requirements must be implemented by June 1, 2015.
Auto recyclers are required to meet the following requirements:
Written HazCom Plan

. Plan must also include a hazardous material inventory. See the HazCom section in your new ARM Safety Compliance Manual. There is a sample plan, and a simple "fill-in-the-blank" plan to help you.

New GHS Labels and Pictograms

. Place on all containers of hazardous materials (vehicle and equipment fluids, cleaners and solvents, batteries, mercury switches). You can now purchase the labels and pictograms online at Seton.com, Grainger.com, Accuform.com, and even Amazon.com. You can also download the labels and pictograms on osha.gov for free. These are new Federal labeling requirements. Note that you must still continue to use other labels required by DEQ or your fire department: name of content (used oil), waste category (Universal Waste or Hazardous Waste), and National Fire Protection Association – NFPA- diamonds and HMIS-style labels.

Safety Data Sheets.

The new format Safety Data Sheets (SDS) replace the old Material Safety Data Sheets (MSDS). Obtain SDS from manufacturers, distributors, suppliers, or online (just Google product name, SDS). Despite the June 1 deadline, many SDS are not yet available from the manufacturers. So replace your current MSDS with the new SDS as they become available. Place the SDS in a 3-ring binder, in alphabetical order. Add a Table of Contents.
Annual Training. Excellent online HazCom training is available for free through ARA University. Sign up through the ARM office.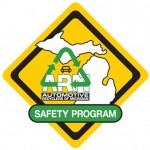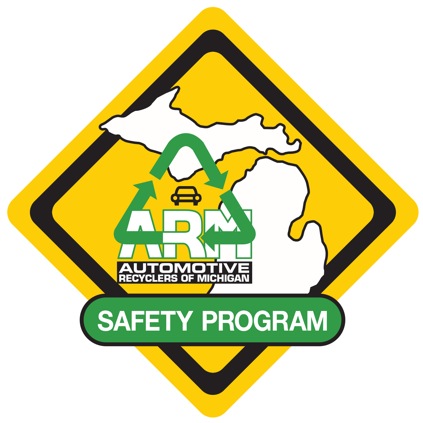 ARM Members Jump on the Safety Bandwagon!
About 90% of ARM members have requested and received the new Safety Compliance Manual, and nearly half of the members have already signed up for the free ARA University online safety training courses. Way to go, ARM members! Let's keep our employees safe! Contact the ARM office to obtain your Manual or sign up for the training.